Walnut Tealight Holder
Sun, Aug 14, 2016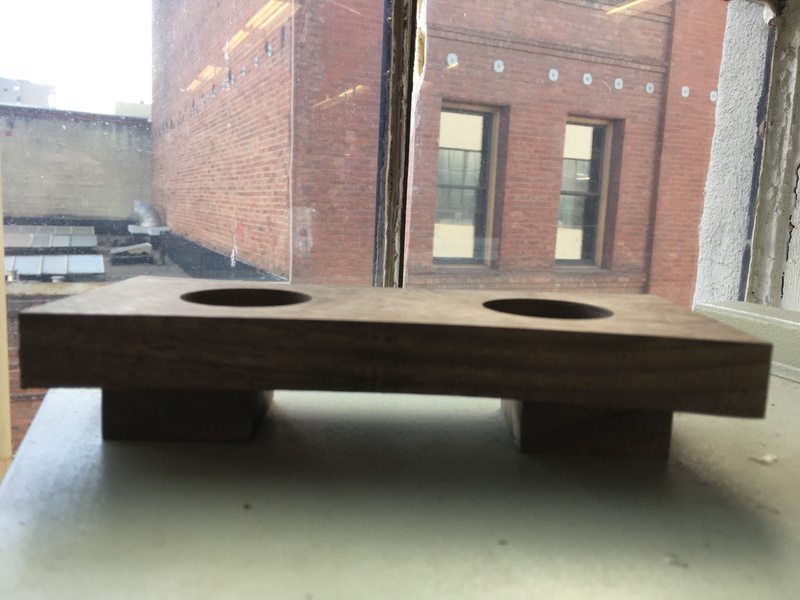 Still horrendous at making things with my hands but will keep trying! This is a tealight holder that is basically three bits of wood, two drill holes and glue.
Band Saw
Pillar Drilling Machine
1 1⁄2" Forstner Bit
Sand Paper
Wood Glue
Circular Saw
Lessons learnt
Buying Wood
Walnut is a beautiful dark hardwood
Walnut is expensive
A DIY Store will sell wood at fixed lengths, but will cut it into pieces for you.
My car can fit about 10feet of wood just!
Prepping
Make a detailed plan beforehand.
If it doesn't work on paper it won't work in the shop (this applies to coding too btw). Draw out everything to scale.
Use SketchUp or some other CAD software if you want to have reusable plans.
Itemize the equipment you'll need. Nothing more frustrating than being halfway through and realising you don't have any sanding paper!
Use Painters Tape or Super77 glue to stick your paper plans onto real wood.
In the Shop
Sanding concave curves is hard without a spindle sander
Always sand with the grain
Wood Glue needs clamps and needs to sit clamped for at least 30mins
Have a Pencil and a backup!